"Art is a subjective matter and comes down if an artist has creativity or not, can play, compose, or not. Art is a lifelong study so will see in the end who is an artist and not. Short-term performances are like reading 1 page from the book and have to give the value. LIFE IS ART....." - Toomas Altnurme
VISIONARY ABSTRACTION – Toomas Altnurme in Haus Gallery Tallinn
Haus gallery is one of the best private gallery in Tallinn Estonia what is the hometown from Toomas Altnurme and that gallery has been on the art market selling promoting exhibiting professional artist last 25 years. A total of 26 paintings and 10 sculptures by Toomas Altnurme will be on display until August 31st.
The artist, who also lives and works in the United Arab Emirates (UAE), reveals what visitors can expect: "The exhibition is combination of artworks I created in UAE during last 9 years in the desert what has influenced my way of artistic thinking and inspired me for a change of cultures and lanscapes,climate zones".
A interview with Toomas Altnurme can be found here: Interview with artist, curator and art director Toomas Altnurme
The artist also often gives insight into his work on his Instagram account!
Sieh dir diesen Beitrag auf Instagram an
Haus Gallery Tallinn about VISIONARY ABSTRACTION
Visionary abstractions! Abstractionism in art has taken on a wide variety of forms over time, and today we no longer doubt its existence; rather, we polemicize what speaks more or less to us in abstractionism, what colors and textures touch us, or what kind of abstractionism our consciousness/subconscious can or cannot grasp. We are equally touched by the painting and sculpture of Thomas Altnurme, in which we look for the idiosyncratic intrigue and differences of today's art expression.
The emergence of abstractionism in art actually began somewhat as early as the second half of the 19th century, when the Impressionists began to abbreviate the technical techniques of realistic painting typical of the era – brushing the contours of the world, distancing themselves from the historical theme of heroism, and engaged more in depicting the closest context of life, such as parks, streets and ordinary people. The Cubists, in turn, made this world angularly fragmentary; the reality of the fauvist compositions was built up by the color that dominated everything, etc., up to the abstract expressionists, in whose paintings the whole imaginary was transformed more into its emotional and spontaneously created essence, showing the viewer only the movements and rhythms of colors…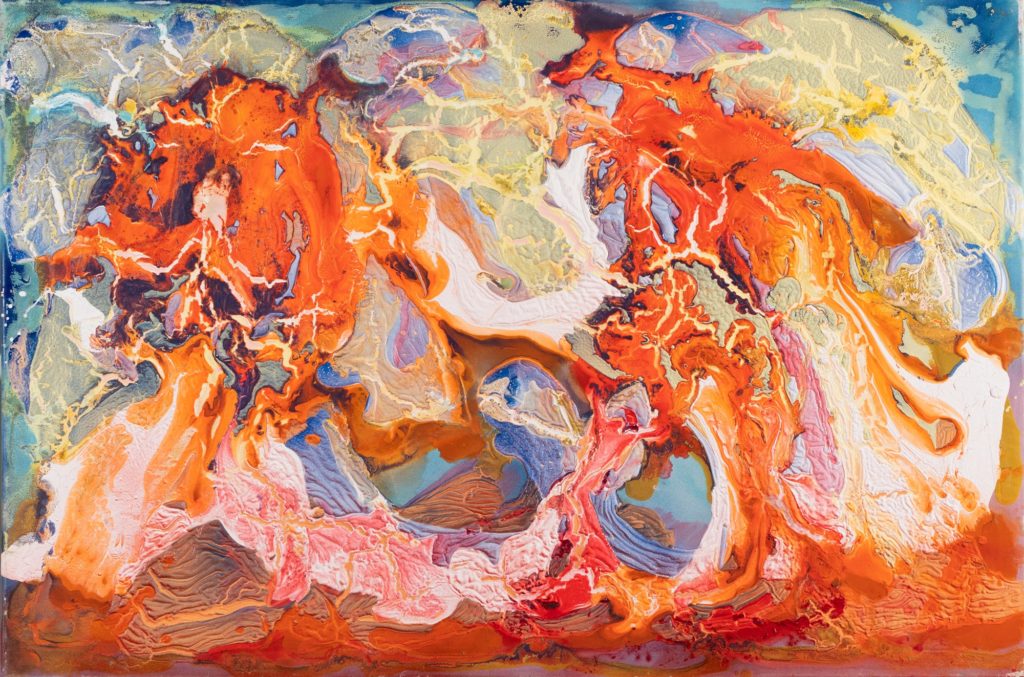 Who is Toomas Altnurme in this still enduring play of abstraction, to which his colourful paintings and sculptures in the exhibition hall of haus gallery try to answer.
What makes any modern abstractionist interesting is his individuality, his ability to intrigue the viewer. Altnurme intrigues with the mobility of colors and compositions, also in sculptures with constructivist playfulness. The artist uses industrial and urban metal elements by combining them into a new object and coating them with neon paints.
Altnurme's paintings, however, are perhaps the colours themselves, emphatically and directly – the colours blend and flow into each other. As if the surface of the canvas were water, which in its natural motion could mix and shape these colors in its own way, giving the impression that the colors could still change their places and outlines at the finished work. At times, the colours accumulate on the surfaces of Altnurme's paintings in such abundantly thick layers that they create illusions of landscape forms.
Visionary abstractions – this is how Altnurme's individual works or lines of paintings drawn in series act. Moving from one image to another and back, the viewer may be struck by a certain visionary hallucination that the colors create with their sometimes wild but self-evident games.
Toomas Altnurme can be considered a multimedia artist who has worked in the fields of painting, installation, sculpture, photography, mixed equipment and digital art. Altnurme has an exotic art education and career. He studied art for 7 years in Asia, rajamangala university in Thailand and Seoul National University in Kyonghee, South Korea, and completed his master's degree from Hongik UniversitySouli. Since 2014, Altnurme has been working as a lecturer in fine arts at the University of the United Arab Emirates.
Toomas Altnurme is an internationally active artist who has participated in nearly the 50th Sculpture Symposium and whose paintings and sculptures are found in different parts of the world, including monumental forms – the US state of South Carolina, Canada Quebec, Carretas of Chile, Brazil Brusque, Costa Rica Cauhita, Taiwan Shimen, Japan ShinJuku, Thailand Bangkok, Indonesia Bali, Singapore, South Korea Seoul, Danish Hojer, France Saint Henry, etc. In Estonia, his works can be found in the Art Museum of Estonia in Tallinn and Tartu, as well as in the urban spaces of Pärnu, Paide and Tallinn. Toomas Altnurme is a member of the Estonian Painters' Union. – This is how Piia Ausman, the curator of the current exhibition – announced the international artist in advance.
More about the exhibition can be found here: http://www.haus.ee/
The gallery also makes the entire exhibition catalog available online!
More Informations
More about the artist? – Toomas Altnurme and the "Beauty of the Desert"
Events selected by us can be found under >>> Events <<<
Are you planning a visit to Abu Dhabi? – You can find hotels at our partner Booking.com
You can find our interviews here: Interview | Arttrado.de
If you want to tell us about your exciting art project, use our contact.
If you like ARTTRADO, you can support us.