The Estonian artist Toomas Altnurme was born in 1973, lives and works in the United Arab Emirates. He was able to gain experience at over 300 exhibitions, in a few days he will be part of the ART Symposium 2021 in Paris. Our last conversation was 6 months ago, he was kind enough to bring us up to date on his projects.
Interview: Toomas Altnurme about ART Symposium 2021 in Paris
You can find our last interview with the experienced artist Toomas Altnurme here: Interview with artist, curator, and art director Toomas Altnurme. His sculpture "Peace" was named "Work of the Week" by us – more about it: Werk der Woche #17 – PEACE. Now he's flying to Paris in a few hours, so there wasn't much time for our questions, so we are all the more pleased, that he took the time for a short status update.
Interview – Toomas Altnurme
The 6th international ART Symposium in Paris, what can laypeople imagine under the event?
There will be an international art symposium, mostly painting and the plan is to form a new art museum.
will visitors be possible on-site? Or will the event be broadcast online?
Yes, I think visitors can visit but let's talk when I am there. I'm not sure about the regulations, maybe let's do a live broadcast from the studio. I'll be there from October 14th to 23rd.
Can you already reveal what kind of motif or program you have come up with?
Paris always has been a big inspiration especially because of their love for art for centuries, now I can only imagine what I will create there, and let's see what new inspiration brings. I am going outdoors with an easel and canvases and will paint like old-school impressionists. In different places parks or even cemeteries. So it will be a spontaneous choice. There will be also a studio fo indoors for artists to use…
That sounds exciting, but at the same time do you also have an exhibition in Estonia?
Yes, Estonia Paide Culture center I will exhibit my new computer-generated works. 3D sculptures and others printed on synthetic canvases are also 3D prints. The works are just about ready and will be transported tomorrow to the gallery.
A total of 7 works are shown in Estonia, very large works with approx. 220×120 or even 220x150cm. How long will the works be on view?
The exact date and the place where the works of art will be installed will be communicated shortly.
Let's get back to Paris. What will your daily routine in Paris look like? Painting, painting, painting or some free time too?
Painting, making friends and go to all the museums again. Explore the city from a different point of view, make photos and videos too
How many artists will there be in total at the event in Paris?
I hear it will be 100 artists. But let's see how many actually will make it there, the event has been postponed 2 times. I will send you photos right away and also we can make a video call, I am sure there is wifi somewhere…
Our readers would certainly be happy. Do you already have plans for next year?
The plan is to create lots of art. November month 2021 I organize Estonian Art month in UAE and 7 artists will participate in UAE artist residency.
Also, I would like to organize an artist residency in Hiiumaa island Estonia if possible. Then also sculpture symposium and Biennale. All the events have been postponed for 2 years now just like the Paris art symposium was postponed 2 times and now finally hopefully happening.
Are you lucky enough to be financially secure through your art despite Corona, or is it currently a negative business?
Art is always ART FOR ART and business is secondary. I create art because it comes from inside me and gives me fulfillment and I feel this is what I am supposed to do under the Sun. If I would be very much interested in business I would work in another sector like commercial design, architecture, real estate, or even sailing or farming. But never say never can be I will go to art business full time as well like art auctions. Art is the best business anyway. I have a special respect for nature and the problems we have now are urban man problems alienated from nature. All this pandemia has been like a forced inner view to meet yourself in isolation, so it's up to the person how you can be alone and survive, for artists, it means more time for art, of course, many events have been canceled so have to work via online and learn new ways out of comfort zone. I started to research something new for me at that time.
New research objective
Creating art for 3D printing, laser cuts, welding them into original unique contemporary monumental sculptures:
For artists creating unique artworks is his lifelong research. I have done sculptures last 30 years from various materials and this research would help to develop new works using 3D programs and the latest laser technology to create artforms in diverse sizes and techniques. The artworks which are broadened in different mediums may create a language that will change reality to a better and more peaceful place.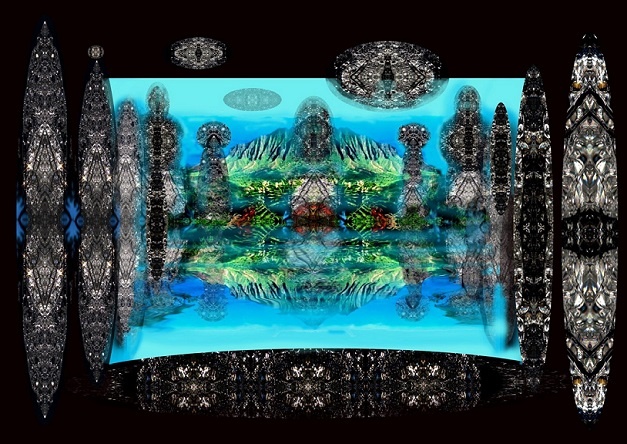 Understanding and Developing Intellectual Property Value to Non-Fungible Tokens:
I started my artist career 30 years ago in 1991 when I made my first solo exhibition of oil paintings. At that time was not common to use computers or even mobile phones.
Since then, technology has developed rapidly and the world around us is changing amazingly fast, especially in times of pandemics when most of the work transferred its activities and studies to online. Everyone knows that art has value but there is a new digital player in the game next to Cyber Cryptocurrency and Artificial Intelligence and it demands its attention and is called NFT Non-Fungible Tokens.
As an artist, I started to create also digital artwork at the end of the 90ies, exactly in 1997 when I got my first Mac computer and studied Photoshop program in South Korea Seoul Hongik University did my Masters of Fine Art. Digital art was an early use case for NFTs, because of the ability of blockchain technology to assure the unique signature and ownership of NFTs. This research would focus on how to develop intellectual property, intangible or tangible to become NFTs and what are the best platforms for that.
NFTs?
Non-Fungible Tokens, known as NFTs, recently made headlines with sales of individual tokens valued at millions of dollars, comparable to sales of fine art. Christie's– a "conventional" auction house – sold its first NFT, the piece "Everyday's: The First 5,000 Days" by the artist Beeple – for a staggering $69 million. Most NFTs sell from merchants without such established reputations. Traders should understand the value of the intellectual property, or lack thereof, tied to NFTs.
https://www.winston.com/en/the-playbook/understanding-the-intellectual-property-value-of-nfts.html
More information
The German translation will follow soon.
Cover picture: Metal sculptures by Toomas Altnurme in UAE Liwa
Toomas Altnurme on Instagram:  Instagram-Fotos und -Videos
More Informations about Toomas Altnurme: www.altnurmeart.simplesite.com
Art for sale in UAE: Altnurme | the-collection
Events selected by us can be found under >>> Events <<<
You can find our interviews here: Interview | Arttrado.de
If you want to tell us about your exciting art project, use our contact.
If you like ARTTRADO, you can support us.